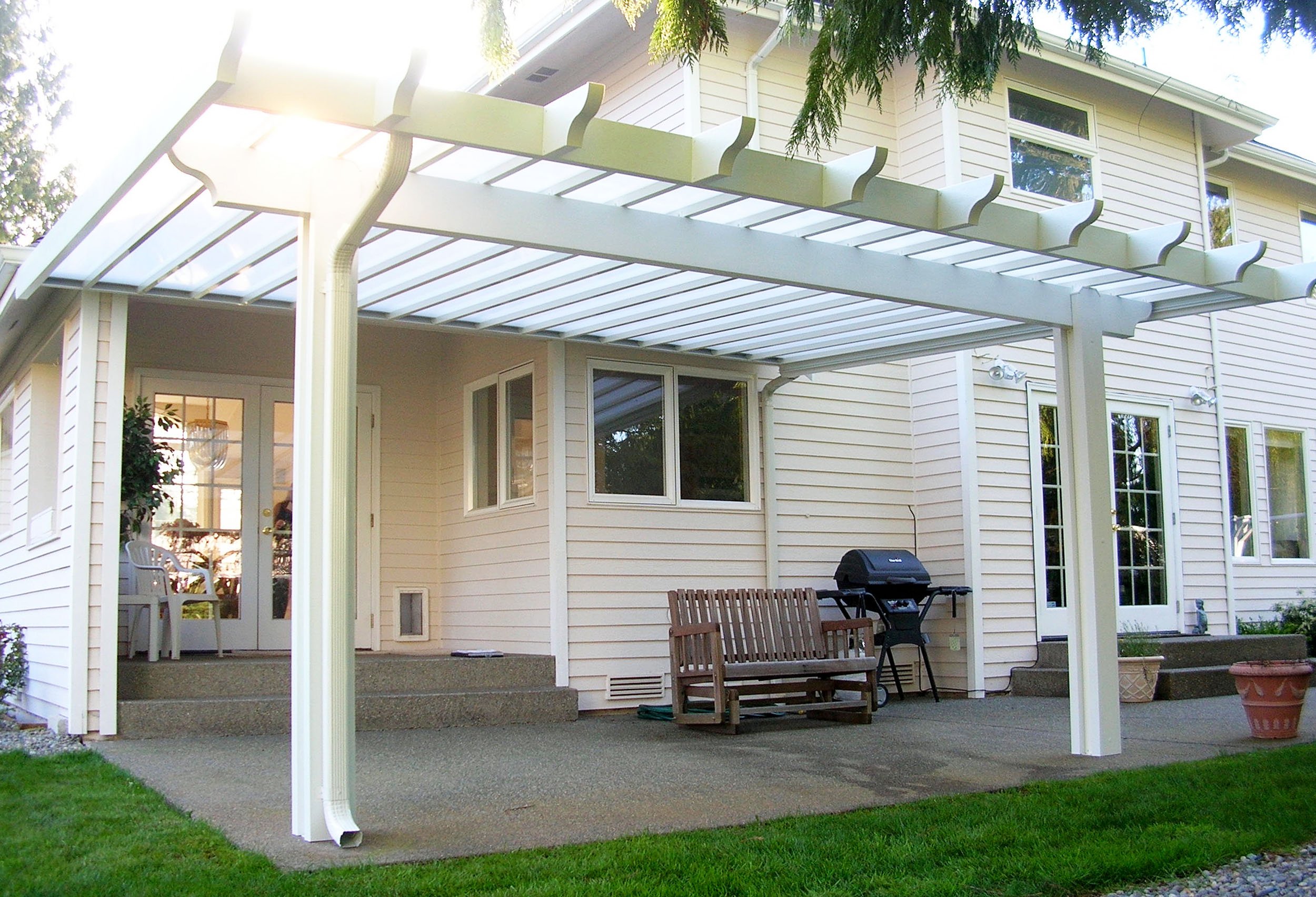 Even if you enjoy hanging out in the sun, too much direct sunlight can ruin your fun. It generates oppressive heat that makes outdoor entertainment spaces uncomfortable. The sun's UV rays damage your skin and your eyes and sometimes cause cancer. When sunlight enters your interior spaces, it gradually fades your carpeting, drapes, and upholstery. If you want to control your sun exposure, residential awnings provide the shade and protection you need. Our custom sunshade systems let you decide how and when to let the sunshine in.
At Manchester Awning, we fabricate custom awnings and canopies that enhance your home with charm and functionality. We give you the protection you need to increase your outdoor comfort. Our sunshade systems let you enjoy the sun while controlling excessive exposure and minimizing your UV risks. When an unexpected shower passes through, awnings also give you shelter from the rain.
Manchester Awning
Too Much Sunlight Costs You Money
When sunlight enters your home, it generates heat that pushes your cooling system to work harder. Our residential sunshade systems serve as a protective barrier that significantly reduces solar heat gain inside your home. Your air conditioning system uses less fuel to cool your home. This reduction can save you up to 25% on energy costs.
Connecticut's Best Residential Awnings
Manchester Awnings is the only local manufacturer with an in-house fabrication operation. Our design-build process gives us the flexibility to customize a sunshade system to your specifications. Each member of our team is a skilled professional who meets our high standards for customer service.
 We welcome your input and feedback through every step of our design-build process.
We produce CAD renderings that let you "see" your residential awnings before we do the work.
Our team guarantees quality products and professional workmanship.
Our company provides engineering and crane service when needed.
Let Us Fabricate A Custom Residential Awning For You
We are excited to offer flexible sunshade systems that make your outdoor spaces more livable. Our design team works with you to give you the color, style, and functionality options you prefer. Our design-build process allows us to fabricate custom awnings and canopies that meet your needs and exceed your expectations.
Fabric Awnings
Fabric awnings provide protection from sun and rain. Our designs can incorporate your choice of color and style, and you can choose acrylic fabric when you desire a water-resistant cover.
Retractable Awnings
Our retractable awnings give you the convenience of instant shade. A simple mechanism lets you extend or retract your awning on demand. A self-supporting lateral arm eliminates in-ground support poles. We customize your system with colors that add attractive design elements to your home's exterior.
Patio Roof Systems
A four seasons sunroof gives you unlimited options. We can install it as a permanent patio cover with a snow load rating. You have the option of permanently enclosing your space to create a sunroom that's cool in summer and warm in winter.
Manchester Awning
Custom Covers
Our skillful in-house sewing team has the creative flexibility to create covers to protect the things you care about.
Awning Storage & Caring Bags
In & Out-Door Equipment Covers
Grill Covers
Fire Pit Covers
Firewood Carriers
Chair Cushions & Covers
Seat Covers
Curtain Covers
Shade Sails
Safety Belts
Batting Cage Curtains
Tennis Court Curtains
Tarps & Truck Tarps
Air Conditioner Covers
Static Free Workstation Covers
Generator Covers
Sandbox Covers & PlayScape
Shade Covers
Patio Furniture Covers
Winter Covers
Fabric Awnings
Fabric Shade Structures, Custom Fabric Awning Designs, Patio & Deck Sunshade Systems, Commercial & Residential Systems
Our fabric awnings give your outdoor spaces and home interior stylish protection from the sun. Our in-house team completes the creation process from design to installation. We offer you a choice of colors and styles. If you need a water-resistant awning, we create your awning with acrylic fabric.
Retractable Awnings
Versatile Sunshade Systems, Self-Supporting Sun Protection, Custom Awning Designs,
Commercial & Residential Retractable Systems
Our retractable awnings provide flexible protection from sun, heat and UV radiation. You simply extend your awning when you need shade and retract it when you don't. Our design team offers a choice of colors and styles. Each awning incorporates a self-supporting lateral arm that eliminates inconvenient four-pole support systems.
PATIO ROOF SYSTEMS
Versatile Aluminum Sunshade Systems, Aluminum Roofs & Enclosures, Custom Aluminum Deck Roofs, Commercial & Residential Systems
Our flexible patio roof systems give you the flexibility to add elements to meet your changing needs. Your patio cover protects you from the sun and rain. You choose optional future additions when you need them. You can add temporary walls or a permanent enclosure for a year round sunroom.
Custom Covers
In & Out-Door Equipment Covers, Fire Pit Covers, Shade Sails, PlayScape Covers, Winter Covers
Our flexible in-house team uses their sewing skills to create covers that meet a variety of household needs. We custom design and sew covers to protect the things you care about. Our creations include chair cushions and covers, fire pit covers, firewood carriers, generator covers, patio furniture covers, and many other items.
Our Service Areas
Manchester Awning creates Residential and Commercial Awnings for customers in Hartford County, Tolland County, Windam County, and throughout Connecticut. Manchester Awning headquarters is located in Manchester CT, and we specialize in creating Commercial and Residential awnings in the surrounding towns of South Windsor, Vernon, Bolton, Glastonbury, East Hartford, Hartford, Windsor, East Windsor, Bloomfield, Tolland, Rocky Hill, Cromwell, Newington, Farmington, and West Hartford.