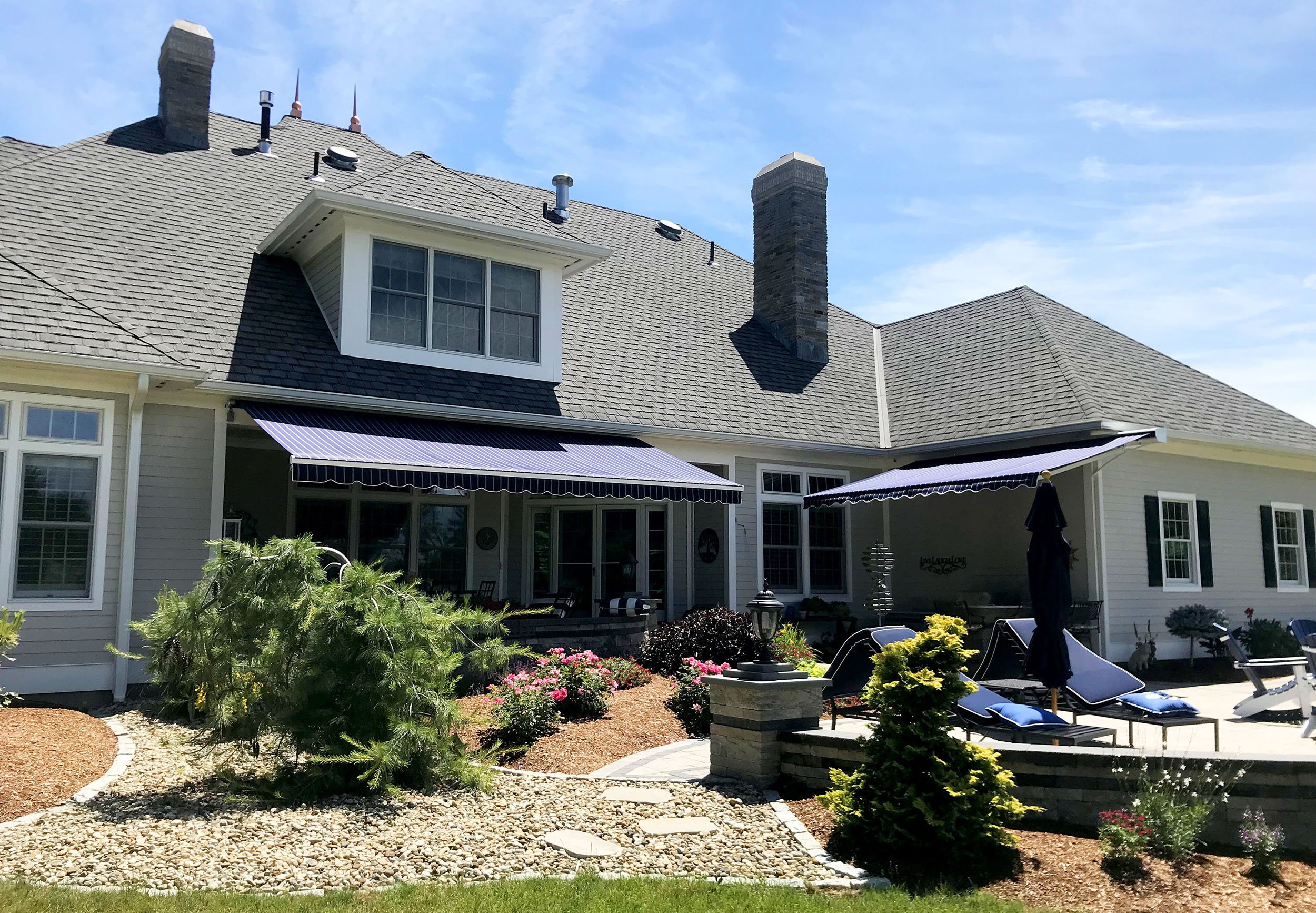 Awnings in Glastonbury CT
Sunshine makes your day warm and pleasant, but when the heat becomes oppressive in Glastonbury CT, it can send you running for cover. If sunny days make you hot and uncomfortable, we have you covered. At Manchester Awnings, we create quality custom awnings that beautify your home or business while protecting you from the sun.
Commercial Awnings in Glastonbury CT
Our commercial awnings give your business an attractive transformation without paying the cost of a full-blown remodel. We fabricate customized sunshade systems for restaurants, office buildings, and large and small businesses throughout Glastonbury.
Our in-house team designs and fabricates your awnings to your specifications. You can choose materials, colors, and styles that give you endless possibilities. We also add optional graphics that brand your awnings and give your entryway a look that commands attention.
Residential Awnings in Glastonbury CT
Custom sunshade systems enhance your Glastonbury home and protect you from the sun as you work, play, and entertain. They provide stylish shade that increases your comfort and protects your family from cancer-causing UV rays. Our awnings save you money by preventing direct sunlight from heating your interior spaces and damaging your decor.
The Manchester Awnings in-house team creates your awnings with the style, color, and fabric choices you prefer. We complete the work from design to installation.
Architectural Awnings in Glastonbury CT
Architectural commercial awning systems enhance your buildings with beauty and functionality. We create traditional and trendy awning and canopy styles that add charm and elegance to entryways and outdoor service areas. They protect customers and employees from harsh sunlight and damaging UV rays, and they provide cover from sudden rain showers.
Our in-house team designs and fabricates your awnings and canopies to your specifications.
Architectural Metal Awnings
Architectural Canopies
Overhead Door Canopies
Standing Seam Metal Awnings
Fabric Awnings in Glastonbury CT
Fabric sunshade systems give Glastonbury's residential and commercial buildings a visual upgrade while providing protection from the sun. They block sunlight and add cooling shade to outdoor entertainment areas. Awnings reduce the direct sunlight that enters indoor spaces. This saves climate control costs and minimizes sun damage to your home or business decor.
We handle every step from design to installation. We give you a choice of colors, styles, and fabrics, and we offer branding for commercial clients.
Retractable Awnings in Glastonbury CT
Retractable awnings give you flexible protection from direct sunlight and UV radiation. You use a simple mechanism to extend your awning when you want to block out direct sunlight. You reverse the process to retract your awning when you prefer to bask in the sun.
A self-supporting lateral arm keeps your retractable awning firmly in place. This eliminates the need for inconvenient in-ground support poles. We customize your awnings to enhance your building.
Patio Roof Systems in Glastonbury CT
Customized patio roof systems give you a flexible alternative for creating an outdoor entertainment space. We install your system as a permanent patio cover and we can convert it to meet your future needs. Patio roofs have a snow load rating which gives you unlimited year-round options.
A temporary screen enclosure makes your patio a perfect spot for summertime entertainment. A permanent enclosure transforms it into a sunroom that keeps you cool in summer and warm in the winter.