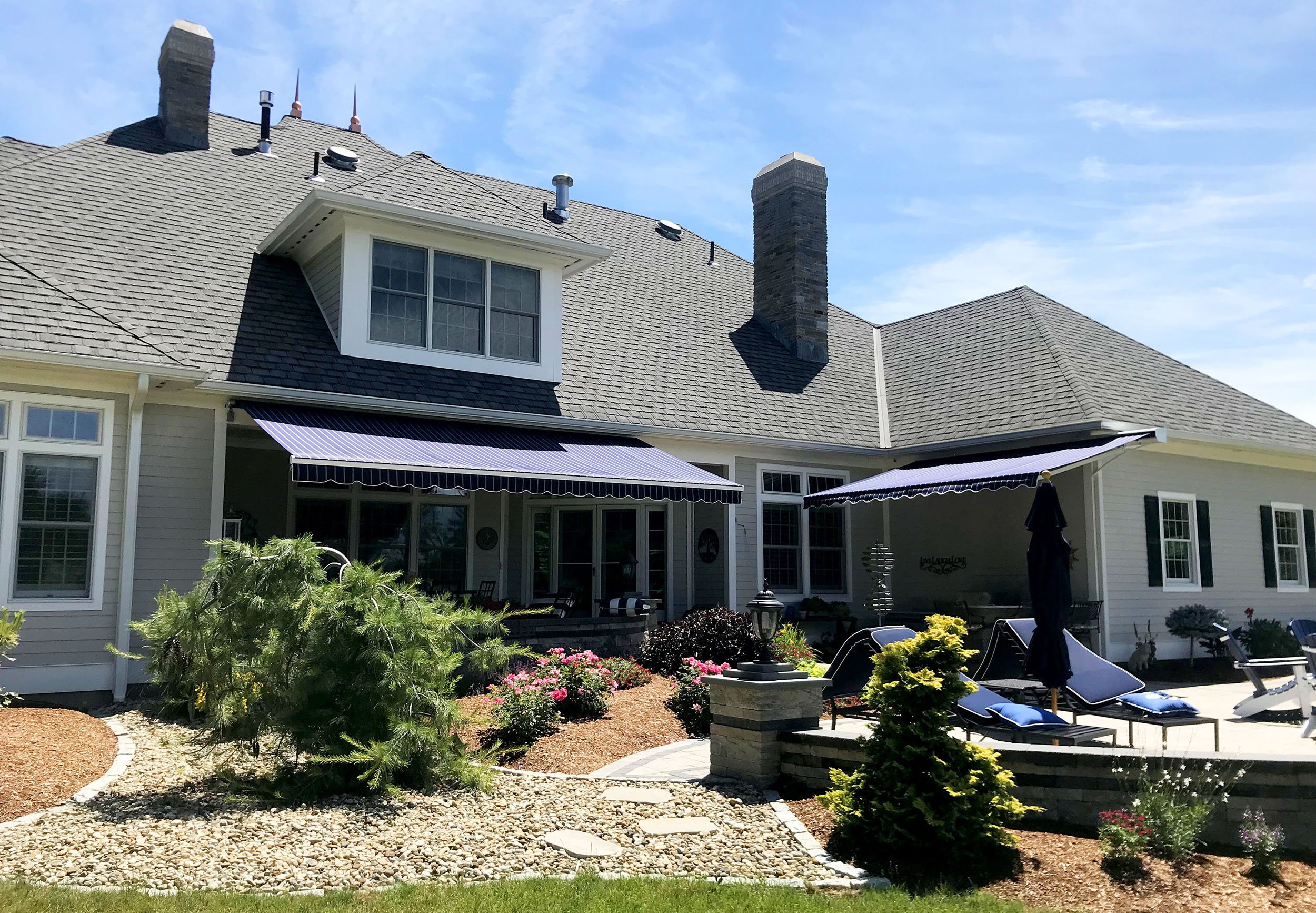 Awnings in South Windsor CT
Even if you enjoy sunny days in South Windsor CT, too much sunshine can make you hot and uncomfortable. When you need a break from the sun, we have you covered. At Manchester Awnings, we create custom sunshade systems that enhance your home or business and shelter you from the sun.
Commercial Awnings in South Windsor CT
When your building needs a new look, you don't have to pay for an expensive remodel. We fabricate custom sunshade systems for restaurants, office buildings, and large and small companies throughout South Windsor. Our awnings give commercial buildings a trendy economic upgrade.
Our in-house team designs and fabricates awnings to meet your unique needs. We give you a choice of materials, colors, styles, and infinite design options. We can imprint your awnings with logos, lettering, or professional graphics.
Residential Awnings in South Windsor CT
Our custom awning systems can add charm to your South Windsor home and protect your favorite people from the sun. Awnings give you stylish shade that helps keep you cool and minimizes UV radiation exposure. They provide a barrier that reduces solar heat inside your home and prevents the sun from fading your fabric decor.
Our in-house team lets you choose your style, color, and material. We custom-create your awnings, completing the work from design to installation.
Architectural Awnings in South Windsor CT
When you need a building upgrade, architectural commercial awning systems offer simple alternatives for added beauty and functionality. Our traditional and trendy awnings and canopies add simple elegance to entryways and outdoor spaces. They protect your customers and staff from searing sunlight, dangerous UV radiation, and seasonal downpours.
We design and fabricate your sunshade system in-house. We meet your specifications and offer the styles you prefer.
Architectural Metal Awnings
Architectural Canopies
Overhead Door Canopies
Standing Seam Metal Awnings
Fabric Awnings in South Windsor CT
Our fabric sunshade systems give South Windsor buildings a stylish upgrade while providing efficient sun protection. They block direct sunlight and produce shade that helps keep you cool. Awnings protect building interiors by preventing direct sunlight from entering indoor spaces. This reduces your air conditioning costs and minimizes the sun's fading effect on fabric decor.
We give you color, style, and fabric choices. Our graphics team will brand your commercial awnings with logos, lettering, and images. We design and sew your fabric awnings and complete the installation process.
Retractable Awnings in South Windsor CT
Our retractable awnings are flexible sunshade systems you can access on demand. You use a simple mechanism to extend your awning when you need it and retract it when you don't. Like our other awning systems, it protects you from direct sunlight, UV radiation, solar heat, and sun damage.
Retractable awnings have a self-supporting lateral arm to reinforce their structure and hold them in place. We customize your awnings to your specifications, and we complete the installation process.
Patio Roof Systems in South Windsor CT
A patio roof system gives you flexible outdoor entertainment options. The initial installation gives you a permanent patio cover. It has a snow load rating so it remains in place throughout the year.
When you're ready for a change, we can add a temporary screen enclosure to create a summertime entertainment space. You can also have a year-round sunroom. We add a permanent enclosure and you add a heat source to keep you warm during winter weather.