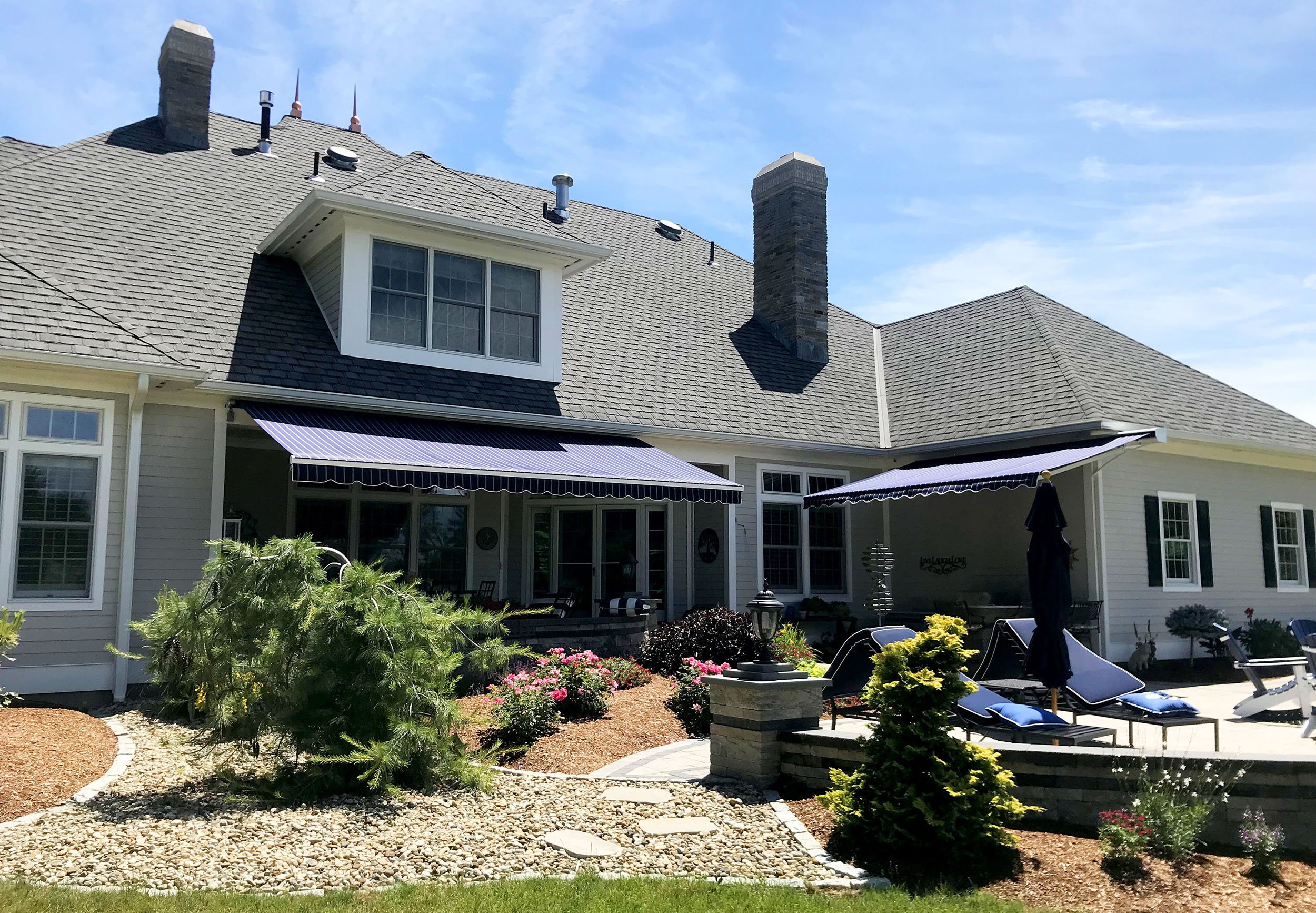 Awnings in West Hartford CT
What's not to love about a sunny day in West Hartford CT? Sunlight chases away seasonal chills and makes your world brighter. If too much sunshine makes you uncomfortable, we have you covered. We custom-create beautiful awnings and canopies. Our sunshade systems promise cool, comfortable relief and add elegant details to your commercial and residential buildings.
Commercial Awnings in West Hartford CT
When your building needs an appearance update, don't pay for a costly remodel. Let our custom sunshade systems give your West Hartford business a trendy new look while it protects you from the sun.
You choose materials, colors, and styles for the look you prefer, and we fabricate your awning to match your company image. Our graphics team can brand your awnings with a logo, lettering, or a professional image.
Residential Awnings in West Hartford CT
Custom awning systems add traditional charm to West Hartford homes, and they protect families from the sun. They give you a stylish option for adding cooling shade and reducing UV radiation exposure. Awnings minimize solar heat accumulation inside your home and stop sunlight from discoloring your fabric decor.
Our in-house team helps you choose the perfect style, color, and material. We custom-create your awnings, completing the work from design to installation.
Architectural Awnings in West Hartford CT
When your business needs an exterior upgrade, architectural commercial awning systems add beauty and functionality. Our awnings and canopies add stylish accents to entryways, windows, and outdoor spaces. They protect your clients and staff from excessive sunlight, UV radiation, and seasonal downpours.
Our in-house team designs, fabricates, and installs your sunshade system. We meet your specifications and offer the contemporary and traditional styles you prefer.
Architectural Metal Awnings
Architectural Canopies
Overhead Door Canopies
Standing Seam Metal Awnings
Fabric Awnings in West Hartford CT
Fabric sunshade systems give homes and businesses a stylish transformation. They provide beautiful shade and sun protection to keep you cool, and they prevent direct sunlight from entering your building. This reduces solar heat buildup, lowers climate control costs, and minimizes sun damage to fabric decor.
Our in-house team does it all. We design and sew using your color, style, and fabric choices. We brand commercial awnings with your logos, lettering, and images. We install your awning professionally.
Retractable Awnings in West Hartford CT
Our retractable awnings give you a flexible, on-demand shade system A simple mechanism lets you extend your awnings when you need protection from direct sunlight, UV radiation, solar heat, and sun damage. You retract them when you want to feel the sun.
Retractable awnings have a self-supporting lateral arm that reinforces them and holds them in place. We customize your awnings to your specifications, and we complete the installation process professionally.
Patio Roof Systems in West Hartford CT
Our patio roof systems give you flexible shade options. Your initial installation gives you a permanent patio cover. It has a snow load rating so it remains in place through the seasons.
When you're ready for a change, we add a temporary screen enclosure to create a summertime space for entertainment and relaxation. If you add a permanent enclosure and a climate control source, you have a year-round sunroom. winter weather.