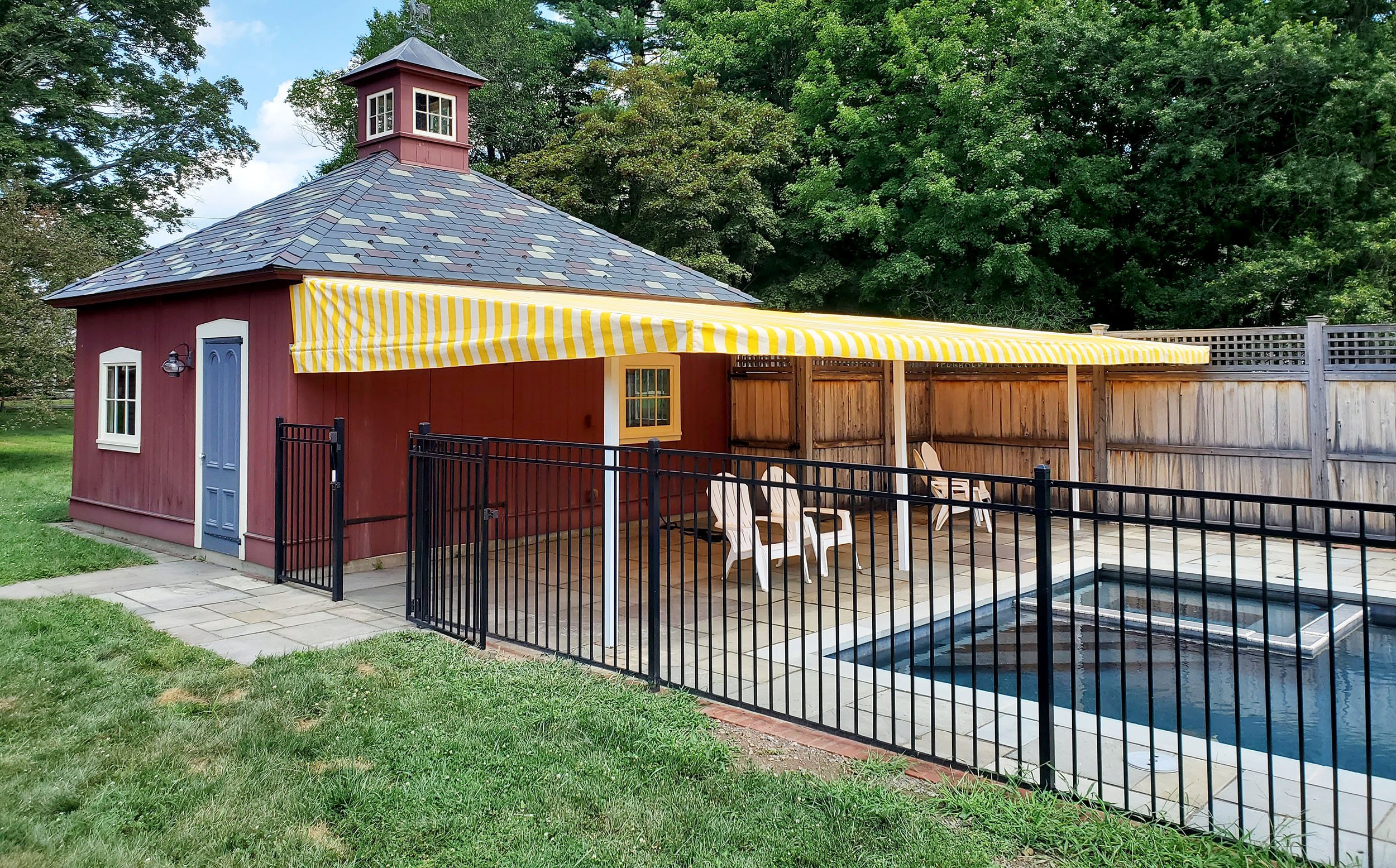 Fabric Awnings
Fabric Shade Structures, Custom Fabric Awning Designs, Patio & Deck Sunshade Systems, Commercial & Residential Systems
You love sunny days because sunlight is bright, beautiful, and playful. It can also be harmful and excessively brutal. When the sun's heat lingers, it makes outdoor entertaining inconvenient and uncomfortable. Its UV radiation damages your eyes and your skin, and it sometimes causes cancer. When sunlight enters your home, it fades and damages your decor, and heats your air-conditioned rooms. Fortunately, you don't have to abancon your sunny day activities. Our beautiful custom fabric awnings enhance your building and let you enjoy the sun on your own terms.
Manchester Awning
Fabric Shade Structures Save You Money
When sunlight enters your home, it gradually fades your carpeting, drapes, and upholstery. Eventually, you must pay to replace them. As the sun heats up your interior spaces, it forces your air conditioning system to work overtime, and you pay for the privilege. Even if you don't notice these sun-related financial losses, the costs add up over time. Fabric shade structures protect your home from damaging sunlight and heat. They save you money for several reasons.
Fabric awnings don't trap heat and moisture.
They provide an 8 to 15 degrees cooling capacity which saves energy.
They reduce solar heat gain by up to 65 percent on south-facing windows and 77 percent on west-facing windows.
They protect your home from costly sun damage
They reduce your air conditioning costs by as much as 25 percent.
Our custom acrylic fabric awnings are water-resistant.
Custom Fabric Awning Solutions
Manchester Awning is a local custom awning manufacturer with a completely in-house fabrication process. We proudly create custom fabric sunshade systems for your home or business. Our design-to-build process allows us to create durable fabric sunshade systems using your choice of color and design options. We offer optional branding for commercial awnings.
We back our products with professional workmanship and we're committed to giving you unparalleled customer service.
Customer order management technology
Dedicated design & installation team
Customization to your specifications
In-house graphic design department
CAD design renderings
Quality components & construction
Bonded & license installations
Quality workmanship guarantee